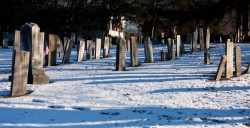 A cool cemetery in CT. I wish we could have gone inside, but there was a fence (yea, I know…I should have jumped it).
I'm sharing these simply because I need to post more 🙂 I don't think the photos are that great…but the scene is still cool.
I was loving the arrangement of the graves, and all the white snow and blue shadows.
If I could have a "do-over", I would get better shots of the grave dates since a lot of them were from the early 1800s.