Birdeater Info
A parody of Hall and Oates "Maneater".
This is a 1min animation of a hungry cat chasing after a bird.
Does he ever get it??? Hmmmmmmm….
Video link:
Animator & Lyrics:
Rhianon England
Music:
Dave Hassler
Vocals:
Maxx Kautz
Year:
2023
Programs:
Krita (art),
Garageband (music),
Hitfilm Express (video editor)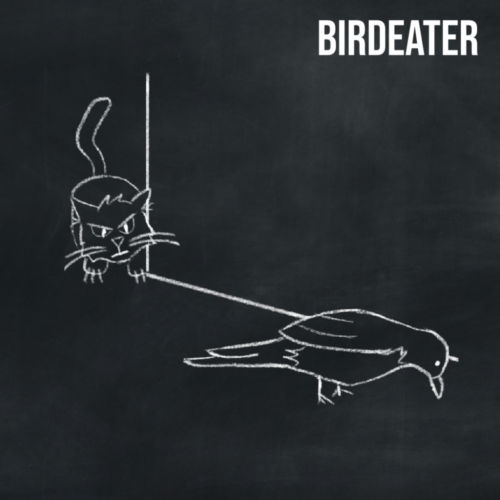 Making of… (personal life, health bits)
I started this back in April of 2022, and is the the largest animation I've released so far. Drawings were done by summer, so what took so long???? I could no longer create the music myself. My good friend, Dave, re-created the music for me, but I wanted to sing it myself. Not him.
I have (slow) progressive hearing loss, and it took me several failed attempts (and several broken friendly ears) to accept the fact I can't sing like I could 20 years ago. Don't get me wrong, I still sing alll the timeee, but no one has to hear me. 🙂 So a lot of the delay was just me…. slowly accepting it while I worked on other projects.
When I was ready, then there was the mission of finding someone to sing for me! This is purely a passion project. No one is paid, not even me. A few months ago I finally found that singer that loved the idea, and several friends that helped me to edit the final mix.
Nothing about the animation is perfect, but neither am I. I'm so proud of this for finally getting done, and couldn't possibly thank my friends enough for helping me out. (They were probably just sick of hearing about this, and wanted me to shut up lol.)
---
Geek Section
I used to be a web designer, and love tinkering with "new" programs. Krita is a blast! Free, and not only can you paint cool stuff, but you can make it move too. I broke the animation into about 5 different Krita files, and exported each section into an image sequence. That way I could import each section into my Video editor (Hitfilm Express) at the highest quality. Everytime I needed to adjust one of the krita files, I would re-export it, and Hitfilm would immediately see the changes. I love that! Extremely helpful when everything is still in rough sketches, and I'm trying to work out the timing of everything.
I used the chalkboard approach, so I could try to keep the drawings EASY. I'm a detail queen, but I didn't want to spend a year drawing this (which I almost did anyway).
As challenging as this project could be, I loved the whole process. Brainstorming ideas, storyboards, working with friends, doing a lot of the editing on my own… it was fun. Cat parodies may be my niche for a bit. I have several other ideas already in the works. I'm very slow at this though, so don't expect anything to come out tomorrow. 🙃
* Hitfilm Express is now extinct, so if you're looking for a good (free) video editor, check out Davinci Resolve. I'll be switching to that when what I have is no longer works on my mac.