Our hometown girl, Vicci Martinez paid us a long overdue visit as she toured the west coast in support for her new album. (Which by the way, is GREAT! I've had it on repeat for about 3 days now… hopefully the neighbors are enjoying it just as much as I do).
With her, she brought Jamar Rogers (from season 2 of The Voice). He was getting quite a few squeals from the crowd himself, and I can see why! What a cutie…. photos do a poor job displaying the amount of energy this guy displays.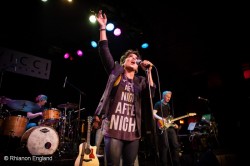 Vicci brought some changes of her own. Like a new sound… her songs have more of a pop/rock vibe, than the previously bluesy jams that she and her band would play. Works for me… I got sucked in immediately. But I did notice one thing…. she didn't "do" a whole lot. Normally she dances around the stage, or rubs elbows with her band mates. She didn't play much guitar either… a new guy in the band handles that. I guess so she can focus on her vocals more? In fact, it wasn't until later in the show (when she started playing her older material) that she kicked off her shoes, danced around away from the mic and seemed more like her usual self.
My fave part of the show? Her playing Adele's "Rolling in the Deep" acoustically. GOD, does she kill on that song. With a band, or with just a guitar… she owns it every time.
Photos from the show are here.
I had the first 3 songs to shoot…. and wish I could have gotten more pics of the band members. Those 3 songs go fast!