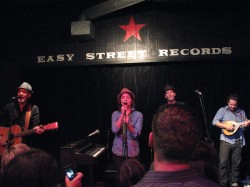 As many times as I've seen Brandi, it never gets old (obviously). And every time I see her at Easy Street, I get this Deju Vu feeling……. that despite how much time or distance has passed, we are all still here… like It's 2006, 2007, 2009, 2011 all over again. No matter how big she gets, she's still here for us.
It's like no time has passed at all. I'm still right here, reliving all the same feelings and awe I have ever felt for her and her music.
I have made some of my longest friends through Brandi shows, and it never fails that I end up making a few more at each show. Despite the rain, despite the 3 hour wait, and despite the tight quarters, there was nothing else that I would rather be doing.
As for the show, it was a good time as usual. The band was all smiles, and was joined by Jeb Bows on the violin (who has been playing with them for awhile, but now is officially part of the band). The crowd clapped and sang along on the rowdy numbers, but was quiet and respectful on the slow ones. Hearing the new tunes was great. If you haven't checked out her new album, Bear Creek, I highly suggest giving it a listen.
I only brought a point and shoot camera for this gig…. if there is one thing that bugs me about Easy Street gigs, it's that it's hard to see! (And I always get stuck behind the tall guy).
Setlist:
Raise Hell
Hard Way Home
Keep Your Heart Young
A Promise to Keep
That Wasn't Me
The Story
Crazy
Dreams