At long last! Katie Herzig has finally headlined her own tour! I've seen her so many times as an opening act, and it always felt like such a tease to only get her in 40min chunks. Katie is not only in my top 10 favorite musicians, but she's super sweet as well.
With her, she brought along Butterfly Boucher as her opening act (and bandmate). I know who she is (is from Australia, and plays with several people like Sarah McLachlan), and have even seen her live before (such as with "Ten out of Tenn"), but I've never really paid attention to her solo work. She ain't bad! Maybe not the best songs I've ever heard, but I sure do like HER. Her live energy is top notch. She attacks her music so aggressively, that I was almost surprised that she was such a smiley, friendly person when she came off the stage.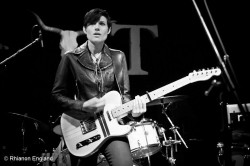 So how did Katie do?? AWESOME. Armed with 5 other bandmates (including Claire and Jordan), they played every song off the new album "The Waking Sleep", as well as a few others. The band was TIGHT, lots of layers, and lots of instruments were used to reproduce the sound of the album… it sounded great. I wouldn't mind seeing this show a few more times, just so I could take it all in.
SETLIST:
Shovel – Lost and Found – Wasting Time – Make a Noise – Sumatra – Oh My Darlin' – Forevermore – Free My Mind – Best Day of Your Life – The Waking Sleep – Gypsy girl – Hey Na Na – Hologram
E: Midnight Serenade – Closest I Get – Daisies and Pews – Way to the Future