At long last, I've finally seen KT! Instead of playing with her band in one of the bigger clubs, she's on a solo tour as a one-woman band. Let's see, there was 5+ guitars, a keyboard, a drum, a foot pedal tambourine, and a kazoo. Oh, and let's not forget the looping/tracking machine she uses to layer everything
"Talented" doesn't even begin to describe this woman.
My favorite part of the evening? When she remixed her older hits, and layered the guitar tracks over throbbing club beats. Haha, it became a dance club in there! I've always loved it when musicians would "change up" their older hits, but this takes it to a whole new level 🙂
The day before the show, Meiko got added to the bill!! Yea!!! She's one of my very favorites, and I've seen her multiple times. I feel like I got a "2 for 1" deal, since I would have happily bought tickets for her as well. Meiko played several songs from her new album (which she hopes will come out in Sept), as well as stuff from the first album (I will never tire of that "shitty apartment" song, lol).
In a funny twist of fate, my friend and I helped Meiko find her car after the show 🙂 It was late, it was dark, and as we were walking around with her rolling suitcase… fans would spot us on the street and end up joining the search party, lol! The whole thing was pretty surreal.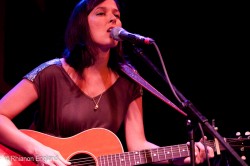 KT's SETLIST (According to the paper):1)Glamour Puss 2)Uummannaq Song 3)Stoppin' the Love 4)Otherside of the World 5)Patience 6)Scarlet Tulip 7)Little Favours 8)Black Horse 9)Hold On 10)Madame Trudeaux 11)Alchemy 12)Fade Like a Shadow E: 13)Suddenly I See 14)Through the Dark