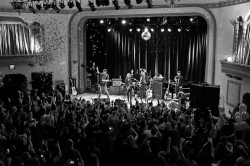 I honestly can't think of anything I would rather be doing on New Years Eve, than shooting Brandi Carlile! Actually that applies for almost any occasion, thats how addicted I am 🙂
The show was full of song surprises, like the drummers (Alli) 2 min solo to start the show, 2 new songs (they recently recorded 8 new songs and plan to put out a new album this year), "The Story" with "hey jude" attached to the end…which lead us into the new years countdown. After the countdown they sang "Auld Lang Syne" to the tune "I wanna be sedated", which eventually lead into the cover.
She also told a really cute story about how she, Tim, and Phil all backed their cars into something within a day of each other. Brandi backed her's into her parents' fence, Tim backed into a tree and Phil backed into Tiffany's car…lol.
Besides a new album to look forward to, we also have a live cd coming out in Spring with material from the Seattle Symphony shows 🙂
Set list: "Mongo make bang" (Allis drum solo), Creep, Looking Out, My Song, Rise Again (new song), Closer to you/I've just seen a face, Have you ever?, Dying Day, Crazy, Before it Breaks, Rattle, Turpentine, Story/Hey Jude "na na's", Countdown , Auld Lang Syne/I Wanna Be Sedated.
Encore: Jackson/Folsom Blues, Pride and Joy, Forever Young, Hallelujah
Photography Notes: Honestly though, I don't think I paid much attention to what songs were being played… and thats part of the price of being a photographer sometimes. My mind is too busy thinking to really absorb a show like the audience is. Not that i wasn't into it! I loved the new songs, its just hard to shut off the head sometimes and not be disattached.
I had to constantly remind myself to keep an eye on the clock, cuz I knew for the countdown that I wanted to be up in the balcony. I knew there would be confetti cannons, but i wasn't really sure what to expect. I fired off maybe 15 shots at midnight, but the one I posted is really the only one that I thought "worked". In the next frame, brandi's back was already turned. (Actually, the original shot is a lot wider than this… The confetti didn't "fill the room", so I cropped a lot of the crowd out. I also brightened the crowd a lot, since the house lights didn't come on.)
As for the rest of the shots, there were little "ramps" in the wings that I was allowed to stand out. Being elevated above a crowd makes things so much easier! I'm so use to shooting in tiny clubs were shooting between a zillion heads is the norm 🙂
Getting the opportunity to do this, means more to me than words can ever say. And getting to do it in Portland?? even better! Happy new year everyone.