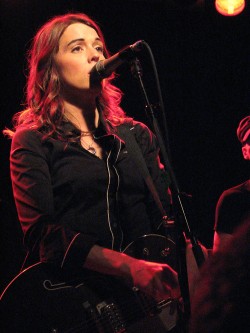 If you couldn't tell, this is a post about Brandis secret show at Neumos… and I can't remember the last time I had so much FUN at a show!
Seeing Brandi at these small intimate shows is sooooo special to me. Seeing Brandi at small Seattle clubs is where I came from! I started seeing her in 2003. Back then "Turpentine" was more of a rock anthem, where you held your beer in the air and sang out the chorus.
This show was stated straight out that this was going to be a rocker, there wasn't going to be many ballads. Whoooo!!! And rocked it, they did. Old songs (again today,wasted), current songs (looking out,dreams), covers (creep, I wanna be sedated)…. Brandi even pulled up her sis and mom to join in for some duets at the end.
And that's what makes these secret shows so good…. It's not the usual formula, instead it's the band having fun and not being afraid of fuckin up (like when Brandi forgot the piano part to let it be and had to restarted it 3 times… (Hahaha I've never seen that happen on a song before). Heck, they even started the show with Allison Miller doing a AWESOME drummer solo before anyone even came on stage 🙂
Words will fail me as I try to express my gratefulness of these shows taking place. I fear the day they get "too big" and never play anything smaller than a theater. Of course I had these same fears 4 years ago… I think it's safe to say that the band doesn't want to lose these moments anymore than I do. Great show guys, can't wait to do it again.
ENCORE
I Wanna Be Sedated (Ramones cover)
Pride & Joy
Place Called Home (with Tiffany)
Calling All Angels (with Tiffany)
Country Medley (with Momma Carlile on "Stand By Your Man") listed as Redneck Brandi on the setlist!
Same Ol' You
Forever Young (cover)
SET LIST (thanks to my friend Heather)
Kick-ass drum solo by Alli
Creep
Again Today
Looking Out
Closer to You/ I just seen a face (cover)
My Song
Wasted
Dreams
Sunsets and Cigarettes (Fighting Machinist's)
Josephine
Turpentine
The Story
Let It Be
Stand by your Man (with her mom,Teresa Carlile)
A Place Called Home (with her sister, Tiffany Carlile)