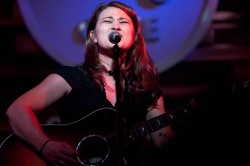 Jennifer played here at the Hard Rock Cafe Sunday night, and I felt like the only person in the room that had no clue what I was walking into. Jennifer is GREAT. Armed with just a few guitars, her voice and songs easily fill the room.
After a 7 year musical hiatus, her fan base is just as strong as ever… and were even  quite verbal (rare for Seattle). Heck even the Hard Rock Cafe was a great surprise… its bright, big, didn't care about cameras, had tables to sit at… although the stage should be higher for the people in the back, IMO I thought the venue was pretty good.  A group of people sat on the floor around the stage, while Jennifer played both old and new songs.
Setlist:
Mr Grey
If it Made a Difference
Better Off
Want for Nothing
In Two (the Lament)
Fallen
On Love
new song (written with Amy Courts)
Martyrs and Thieves
Undo Me
Dive In
Say Won't You Say
Letting Go
Inside
A Little More
I highly suggest for anyone looking for a new artist, to check out her newest album "letting go". I've had it on repeat for 4 days now, and I'm not even close to being sick of it yet 🙂
Photo Notes: It seems like every show I shoot these days, has cruddy red/yellow lighting…and no white light. This show was the opposite.. a bright spotlight on her face, a red light in the background, and lots of blue! (my eyes couldn't see the blue, but the camera did). Glad I finally learned to not clip the highlights, cuz post processing ended up saving my pics. I turned down the exposure in Lightroom, and warmed up the white balance to get warmer skin tones. I still consider myself a beginner, and am so grateful of software that helps me cover my mistakes! Now if I could find software that makes out-of-focus shots, sharp…I would be golden!