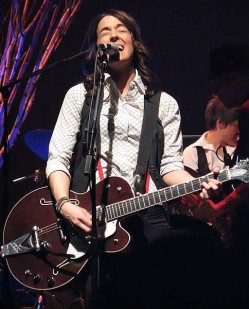 This is the 3rd time I have seen Brandi at Mount Baker, and easily the best. If I ever had one gripe about the hometown shows, it was that "old favorites" would be more focused on rather than the new stuff. I'm not the only one that in the crowd that has heard "Turpentine" more times than I can count, we want to hear all the new stuff you've been practicing cross country. The hometown show should get all the surprises!
Well we finally got it. 3 new covers were played, including a unheard cover of "over the rainbow" (at least I think that's the first she played it – the song was dedicated to a 5yr old Ill child.) and of course we got a healthy heap of songs from "give up the ghost" (my fav album of the year). The other 2 covers were "landslide" and the twins doing "sounds of silence". You can check out the photos and videos here.
Each member of the band came out to sign autographs after the show as well 🙂
This show actually marks the first time I took any video in a LONG time. I had stopped mainly because there was always a inner conflict in me, capturing and archiving a moment, or being fully immersed in it. I also hated the stress that came with it, getting caught, keeping steady, not making sound…. I needed a break and focused mainly on photos. Just as a note, I think I'm horrible with video…. But I have a decent p&s camera and an awesome collection!
After a10 week tour, the band is on a well deserved break before they hit Europe in a month.