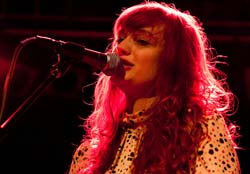 I first saw A Fine Frenzy a little over a year ago when they opened for Brandi Carlile. Although they weren't the most exciting live act (Allison stayed mostly at the piano), the music hooked on me immediately.
Fast forward now to the 2nd album, Allison apparently got the memo that its time to rev it up a little and have some fun. The large piano has been replaced by keyboards at the front of the stage. And no longer does she have a shy persona, but instead dances around and strikes theatrical poses. I was with the pack of photographers in the front, so its hard to see what the crowd was thinking. But I know I was enjoying it! I love to see people enjoying themselves, even at the risk of looking stupid.
My favorite moments were "What I Wouldn't Do", the cover of Blondies "Heart of Glass" (that was AWESOME), "Almost Lover", and the extended "Blow Away". I have heard Almost Lover live before, but the vocals last night were so much RICHER than I remembered them. The crowd sweetly sang the last chorus, and quite a few of us got teared up (myself included).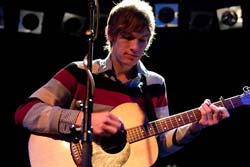 Opening acts were "Among the Oak and Ash" (Josh Joplin and Garrison Starr folk/rock) and Landon Pigg.
This was my first time shooting at Neumos, and have never realized how much the lighting SUCKS there! All the red backlights make Allison's hair look like its on fire..lol. And the club doesn't make very good use of spotlights. Next time I shoot there, I won't be trying to shoot from the front.
Anyway, great band, great show…  I should be in Portland tonight seeing them again.