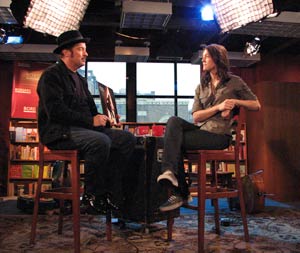 I just got back from vacation in Detroit.  While there, I got to see brandi in Ann Arbor (cuz I'm a fanatic and plan my life around her!). Not only did I get to see a show, but she did a in-store at Borders as well.
Great time! She played "Touching the Ground", "Dreams", and "That Year". The show was being filmed for Borders, so hopefully we get the video released one day. I don't really have much to say…. but thanks to the couple in the front of the "meet and greet" line that let me stood with them. Borders wouldn't let me meet Brandi unless I bought a record 🙁
Also, Audrey if you're reading this….. SOOO GOOD TO FINALLY MEET YOU!!!
That day was important to me for other reasons. I've decided to start taking my photography more seriously, and incorporate it as part of my Web services. I could careless if I'm ever to the level where I'm photographing for Rolling Stone, but maybe I'll meet some bands that need a website 😀


So i've rebranded my portfolio (its still in process, but you can see it here rengland.net. And I bartered some services to get a logo/biz cards printed. And yes…. I slipped Brandi a card…lol. Shes one of the main reasons I got into photography in the first place, AND this was my first website! I got my chance to say thanks.
I was so excited for the show that night, since I had a photo pass. Usually the rule is that you can only shoot the first 3 songs, but tonight it was FIVE. Then I learned something very important….. "If you're going to start taking this seriously, You MUST have the right tools for the job!!". Turns out you couldn't shoot from the front row, you could only crouch in the aisles or shoot on the wings. My lens wasn't even close to being long enough (25mm-75mm) 🙁 UGH. What a waste of a photo pass….
Now that vacations over its time to get back to work and save up for a zoom lens. The one I WANT is $2000 (yikes), unless Santa surprises me…that ain't happening. Theres a 3rd party Sigma lens for $800 that I will probably get….. for now at least.
ADDED: Borders put up video of the in-store. http://www.bordersmedia.com/liveat01/carlile