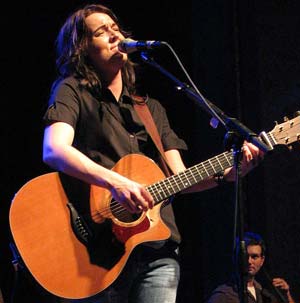 My best friend Javier and I made a QUICK trip out to portland to catch Brandi do 2 shows. It was insane, costly, and FANTASTIC. Javier use to join me to see Brandi years ago, and i couldnt be happier about having him with me once again.
The first gig was at Music Millennium music store, it was a radio gig for Kink FM. cool place! There was couches in front of the stage, and wasn't too crowded….
I chuckled to myself when brandi came out……… her outfit looks pretty close to how a paperdoll outfit looks. heh….nice to see the dolls clothing is still relevant!
I'm pretty lousy with remembering things, otherwise i would tell you what some of the interview said! sorry….
The 2nd gig was at the Aladdin theatre. I LOVED this place. Instead of waiting in line, we decided to go drinking with some of the peeps from againtoday.com. I figured we would be in the back of the theatre, but turned out there was a 2nd entry just for the bar folks. Woot! So we ended up getting to be in the front row…. I bet the people that waited in line were PISSED.
Another cool thing about the place, was that you could bring your beer to your seat! Thats defintally a privilege I'm not use to 🙂
The only downer of the show? NO CAMERAS! Damn! When i got popped at the Moore with my camera, i QUICKLY learned ….that if you're gonna get caught, make sure you catch something memorable first!
So i didn't start taking photos until the encore. I guess it was late enough in the show, that security didn't think it was worth bothering me….. whew!
I really don't like having to stress about it 🙁
My fave parts of the show??
– She sang "ghost in this house" with her sister Tiffany. I've heard of them doing this back east, and have been waiting for awhile to hear it. Excellent Job Tiffany, the girl can definitely hold her own.
– acappella version of "what can i say", and then again during the last verse of "hallelujah". wow…. that girl can SING. I took video of the hallelujah part, and will probably upload it here………. its short but cool.
and Javier??? HE LOVED IT. Totally impressed with how much shes grown, and the passion this band has. I think its safe to say that he'll be joining me for future shows 😀