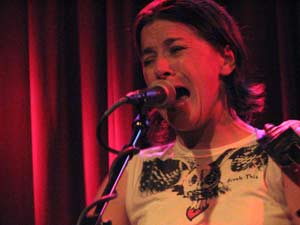 I haven't seen these ladies for YEARS (mf=4, em=6), and it was definitely LONG overdue!
(Plus what a great opportunity to try out my new camera)
Despite the drunks that kept slamming into me, i had a good time….
It was kinda like seeing old friends……… I still remember all their faces and movements, as if it was yesterday. And i was once again 23, trying desperately to capture their "presence" with my camera. The past didn't go anywhere…
It was also really cool to get to see Julie Wolf (keyboards) and Darren Hahn (drums) again……. They were in Ani Difrancos band!! I love those guys!!
so heres a funny moment…….. the crowd is divided in 2 parts. the over 21, and the underage…… with a wide dividing rafter in the middle.
so erin gets up on stage and is," now whats this about???" We all cheered our answer……..
and shes like," ah, i get it…….. i've got an idea…..
this side chant "tastes great", and this side chant "less filling".
"TASTES GREAT!!!" "LESS FILLING!!"
okay, sounds lame now that i wrote it…. but was alot of fun for those of us on the tasty side. Became the theme for the night…
I was really getting knocked around too much, to give my camera a proper work-out……… but i think i feel okay about the results i got. (you know i'm looking for that dream camera, that never has blur and takes excellent low-light pics….and that isnt thousands of dollars). I wish this one handled ISO800 better….. but its definitely better than what i had.
I'll be posting more pics in a few days, soon as work lets me!
I'm loving the video mode though…….. being able to optically zoom is AWESOME.