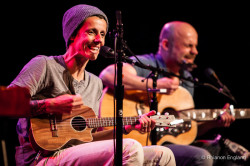 First off, I'm a BIG K's Choice fan…. I first got into them when they were playing the side stages of the Lilith Fair tour back in the '98. I must have seen them at about 3 shows in a row, and the two things I remember the most? 1) Sarah Bettens (the lead singer) had on the same dress at every show. She didn't pack (have?) any others! 2)  The brother/sister harmonies between her and her brother Gert. Something about the tone of their voices together stuck with me. Matched with catchy songs, I was hooked.
I saw them a few other times over the years, but them being from Belgium, they didn't get to the states too often. When they did, it was never near me 🙁
They took a long hiatus to work on other projects, and FINALLY in 2010 they got back together released the album "Echo Mountain". Except for a few select shows, they didn't tour it in the states. Argh!
It's 2013, and they have finally came over to promote their new recording, "Little Echoes"! I saw them not only in Seattle, but Portland as well…. and they did NOT disappoint! They still sound just as good as ever.
They toured as a 3-person band (which is how Little Echoes is recorded). Not only did they perform Echo Mountain songs and a few Cocoon Crash classics, but they mixed in a few covers as well (Snow Patrol, Pointer Sisters).
I decided that Seattle would be where I would take photos, and Portland where I could get my drink on and ENJOY the show. (And enjoy it I did! Doug Fir is a awesome club to see a show at…. the front of the club became a party during "I'm so Excited" lol). I'm pretty sure that both shows are identical in the setlist. Requests were shouted out, but they didn't have any of it rehearsed (dang, hearing "Shadowman" would have been awesome).
I hope they keep making records and come out this way again, that was a really good time. And if not…..well at least I got to enjoy them one more time. Thanks guys.
SETLIST – Portland 5/1/13 (according to the setlist paper)
Killing Dragons
Echo Mountain
16
Come Live the Life
Butterflies Instead
Sister
I Wanna Get Lost
Not an Addict
Chasing Cars
If This isn't Right
No Surprises
Message to my Girl
Someone Just Like You
I Can Do Better than You
I Will Carry You
If You're Not Scared
E: My Heart
I'm So Excited
Letting Go